If you are interested in learning more about our Emerging Leaders 2023 program, we encourage you to join us for one of our three information sessions, being held in Santa Barbara, Los Olivos, and on Zoom.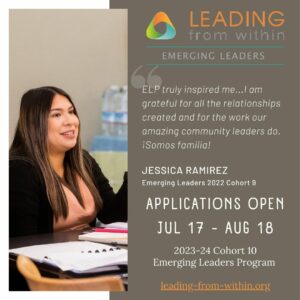 At the info session, we will discuss the program, application and selection process.  You will have the opportunity to hear from Emerging Leaders facilitators, Katya Armistead and Miles Ashlock, as well as meet several of our alumni to learn about their experience in Emerging Leaders.
SOUTH COUNTY INFO SESSION 2023
Date: Thursday, July 27
Time: 5-6 PM
Location: Leading From Within | 2050 Alameda Padre Serra, Suite 202, Santa Barbara, CA 93103
MID-COUNTY INFO SESSION 2023
Date: Thursday, August 3
Time: 5:30-6:30 PM
Location: St Mark's In-The-Valley | 2901 Nojoqui Ave, Los Olivos, CA 93441
VIRTUAL INFO SESSION 2023
Date: Monday, August 7
Time: 12-1 PM
Location: Zoom | You will be emailed the zoom link upon registration.