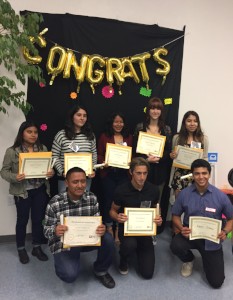 College Club students at National Signing Day
Eight out of 23 high school graduates living at various Peoples' Self-Help Housing affordable communities or attending PSHH College Club in northern Santa Barbara and San Luis Obispo County came together on April 27 at River View Townhomes to celebrate their commitment to four-year private and public colleges/universities, and community colleges. The dedicated students were supported by their parents, representatives of local elected officials, donors and school advisors
Nine of the 23 graduates received scholarships (eight $2,000 and one $1,000), funded through donations, grants and support from PSHH's property management agent, The Duncan Group.
"We are proud of these students who are committing to higher education and are pursuing opportunities that their parents may not have had," said John Fowler, PSHH President and CEO. "This is an exciting day for our entire community as they set off for a bright future."
This event was the second College Signing Day hosted by PSHH, modeled after National College Signing Day, an initiative launched by Michelle Obama. The initiative's goal is to energize students and get them excited about higher education, and to emphasize as much importance on academic college commitment as there is for athletics.
The students are part of PSHH's College Club, which seeks to turn young student residents into leaders. College Club is an expansion of the organization's Youth Education and Enhancement Program (YEEP), in which students receive services through an on-site academic program offering tutoring, support for parents, individualized learning plans and more.
About PSHH
Founded in 1970, PSHH is an award winning non-profit organization that develops affordable housing and community facilities for low-income households and homeownership opportunities for working families and special needs populations, such as seniors, veterans, the disabled, and the formerly homeless. With nearly 1,200 self-help homes completed and nearly 1,800 rental units developed, PSHH is the largest affordable housing developer on the Central Coast, with offices in San Luis Obispo and Santa Barbara. For more information on Peoples' Self-Help Housing, visit www.pshhc.org, email communications@pshhc.org or phone (805) 781-3088.
###